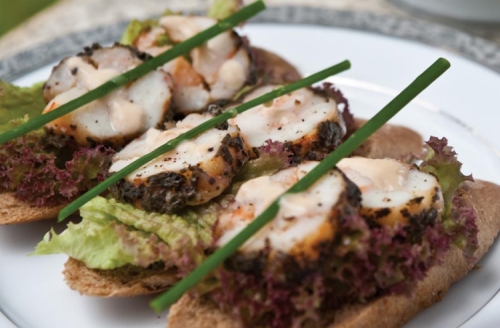 Food : Main Courses
Oolong Tea Poached Lobster Medallion on Rye Bread
Ingredients
20g Dilmah Traditional Oolong Tea
1kg Baby Lobster
Salt/Black Pepper
1 Loaf Rye Bread Sliced
For dressing
25ml Pure Virgin Olive Oil
2 tablespoons Lemon juice
Salt/Black Pepper
2 tablespoons Fresh Tarragon - Chopped
Method
Wash and shell the lobster. Clean and rinse again. Season with salt and pepper. Then sprinkle the Oolong Tea. Wrap in an aluminium foil tightly.
Steam Lobster Parcels in a Steamer for 10 minutes. Then remove the aluminium foil, slice and arrange in a bowl.
Pour the dressing over Lobster Medallion, and leave it to marinate overnight.
When serving, slice the Rye Bread and spread some Mayonnaise on the bread and add some curly lettuce. Then arrange the Lobster Medallion over it. Drizzle some chopped, fresh herbs and serve. Decorate with some slices of tree tomatoes.
The range of Dilmah Tea used
Natural Green Tea Selection
The variety of Dilmah Tea used in the recipe