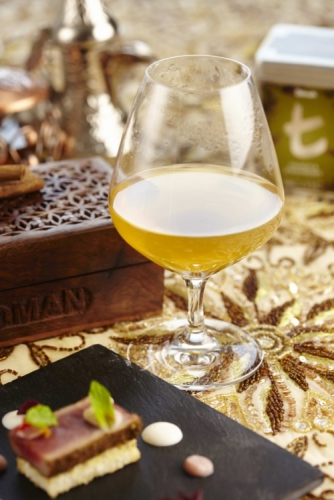 Drink : Mocktails/Iced Tea
NIZWA'S Mountain Secret
Ingredients
30 g Dilmah Mango & Strawberry Tea (10gms for smoking)
300 ml water
1 sprig tarragon leaves
For the Syrup
10ml orange blossom water
4 tsp honey
30g fresh tamarind
400 ml water
Method
Brew the tea to desired flavor and strength.
Strain into a tea pot with tarragon in it and set aside.
For the Syrup
Boil the water with honey, orange blossom syrup and tamarind.
Strain and set aside.
Final preparation
Pour the tamarind syrup into the brandy balloon.
Smoke the syrup with a smoke gun.
Pour in the tea up to the halfway point.
Glassware
Brandy Balloon

The range of Dilmah Tea used

Dilmah t-Series Designer Gourmet Teas

The variety of Dilmah Tea used in the recipe

t-Series Mango and Strawberry

Created by : Alpesh Dias