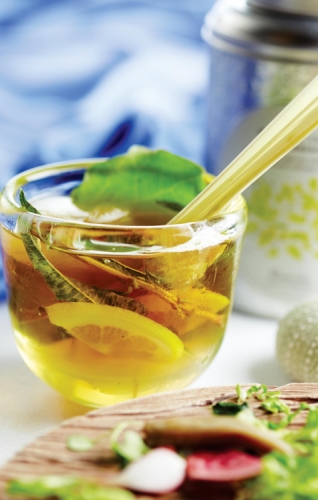 Drink : Mocktails/Iced Tea
NATURAL LEMON VERBENA INFUSION MOCKTAIL
Ingredients
• Natural Lemon Verbena Leaves
• 20 Kawakawa Leaves
• 250g Rapadura Sugar
• 200ml Water
• 500ml Water
• Lemon Verbena Flowers and Lime Slices for 
Garnish
Method
Natural lemon verbena ice is prepared with 

an infusion Natural Lemon Verbena leaves 

brewed hot then cooled till frozen overnight in 

an ice mould.

With it, an infusion is prepared at normal 

strength 1 scoop per 200ml with hot water for 

5min, and then chilled overnight.

The kawakawa syrup is boiled with fresh 

leaves and water and reduced by half, strained 

and dissolved with the Rapadura sugar.

To serve, prepare the glass with a garnish of 

lemon slice and verbena ice.

Add 30ml of the kawakawa syrup. Fill the glass 

with the chilled lemon verbena infusion and 

garnish with lemon verbena flowers.
The range of Dilmah Tea used
Vivid Tea Selection by Dilmah
The variety of Dilmah Tea used in the recipe
Vivid Natural Lemon Verbena
Created by : Volker Marecek