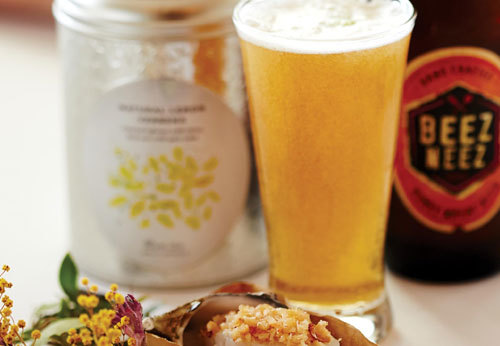 Drink : Mocktails/Iced Tea
Natural Lemon Verbena Fizz
Ingredients
375ml Wheat Beer (plus more)
4tsp. Natural Lemon Verbena, brewed strong
Squeeze of Lemon
Fizzy Sugar Cube
Method
Place wheat beer in an open container and add the Lemon Verbena and infuse for 1 hour.
Strain and freeze until just mushy (granita).
Half fill a beer glass with the frozen tea and top with a squeeze of lemon juice and fresh wheat beer.
To finish, drop in a cube of fizzing sugar.
The range of Dilmah Tea used
Vivid Tea Selection by Dilmah
The variety of Dilmah Tea used in the recipe
Vivid Natural Lemon Verbena
Created by : Ian Jones