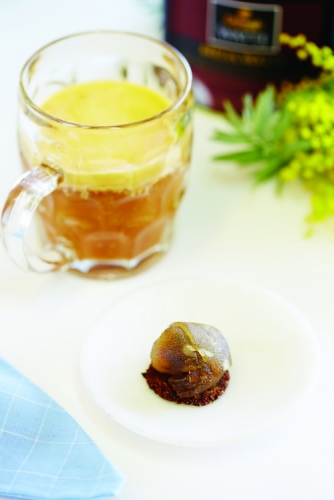 Food : Main Courses
MUSTARD FRUIT AND VENISON
IngredientsVenison
200g fresh New South Wales venison, trimmed
1 tbsp dried fruit, chopped and soaked in Port wine
Dash of olive oil
Salt
Pepper
¼ tbsp poorman's orange marmalade
Mustard Fruit
Good quality Italian mustard fruit
Chia Cracker
200g almonds
200g pistachio
100g chia seeds
¼ tsp pepper
½ tsp salt
½ tsp sumac
Approx. 250 ml water
MethodVenison
Dice venison into very fine pieces by hand.
Soak the chopped dried fruits in port wine.
Add a dash of olive oil.
Add salt and pepper and the orange marmalade.
Mix all together and taste.
This needs to be sweet and have body.
Mustard Fruit
Slice into very fine slices. (Best to use a pear or apple for colour)
Chia Cracker
Toast all nuts then process everything in a blender till grainy.
In a bowl, add water till the mixture is able to stick together. Be careful not to make the mixture too wet.
Roll out with a rolling pin till 3mm thick.
Bake at 175C till it begins to brown and crisp.
Created by : Mitchell Grady