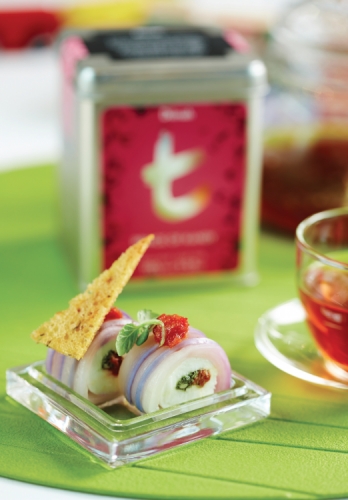 Food : Appetisers
MOZZARELLA CHEESE WRAPPED WITH EGGPLANT
Ingredients
50g mozzarella cheese
100g eggplant
10g pesto
10g semi-dried tomato
10ml balsamic vinegar
10g tomato chutney
Salt and pepper, to taste
1g cress
5 pcs bread, toasted
Method
Steam the eggplant for about 3 minutes. Let it cool down.
Mix with semi-dried tomato, pesto and balsamic vinegar. (Tomato mixture)
Place mozzarella cheese and tomato mixture on the eggplant and make it into a wrap.
Place the eggplant rolls on a plate and garnish with the cress and toasted bread.
Created by : Cheung Kit Ting, Chiki