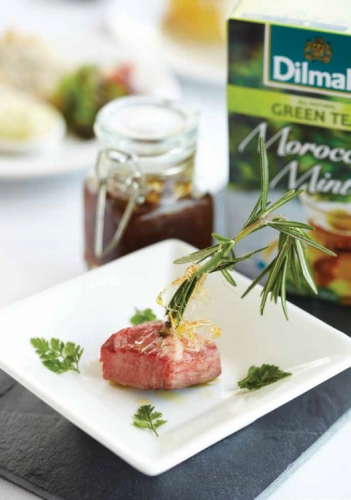 Food : Main Courses
Moroccan mint smoked Junee Gold lamb, finger lime marmalade and garlic fairy floss skewer
IngredientsMarmalade
750g sugar
1/2 kg lime, juice and rind
5 pcs finger lime
1 tsp lemon myrtle
2g iota carrageenan
Garlic fairy floss
200g isomalt
1/2 litre water
250g garlic
40g glucose
Junee Gold Lamb
Junee Gold Lamb Scotch Fillet
Hickory wooden chips
Garlic slices
Rosemary
MethodMarmalade
Prepare the limes and cut the finger limes into slices. Mix all the ingredients and simmer gently for 3 hours.
Garlic fairy floss
Chop garlic and add to the water, heat it up and reduce till 120ml. Add isomalt and glucose, cook into thick syrup at 120°C.
Use a whisk with cut ends, dip in syrup and shake above grease paper to obtain thin and crispy fairy floss.
Junee Gold Lamb
Smoke the lamb scotch fillet, put into sous-vide bag with garlic and rosemary. Cook in a water bath at 60°C for 3 hours.
Sear and rest for few minutes before serving.