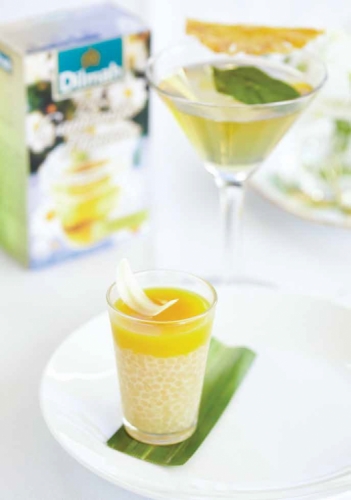 Drink : Cocktails
Green Tea and Moroccan Mint Pineapple Martini with Pineapple Chew
Ingredients
Fresh mint

Fresh pineapple

Simple sugar syrup

5 Dilmah Green Tea with

Moroccan Mint tea bags

Granny Smith apple juice
Method
Finely slice fresh pineapple and simmer in sugar syrup for

10 minutes.

Cool, then pat excess syrup with a paper towel.

Lay pineapple slices on a baking tray and dry at 100°c for

about an hour.

Bring 1 litre of water to approximately 80°C and brew tea for

5 minutes. Strain and chill.

To a martini shaker with ice add 1 part tea, 1 part Granny

Smith juice and sweeten with a little of the pineapple syrup

to taste.

Stir and strain into martini glasses and garnish with fresh

mint and a pineapple chew.
The range of Dilmah Tea used
The variety of Dilmah Tea used in the recipe
Pure Ceylon Green tea with Morocan Mint