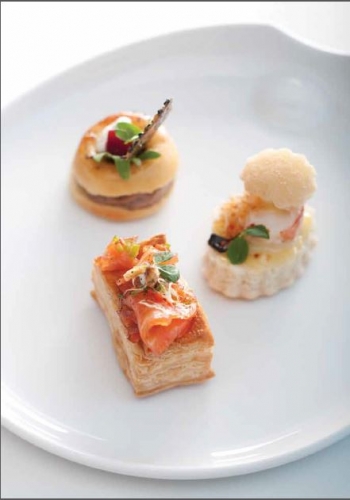 Food : Appetisers
Millefeuille of Salmon two ways
IngredientsPuff pastry
250g dry butter

125g plain flour
MethodPuff pastry
Mix well the dry butter with the plain flour and make a

rectangle with 3cm of thickness, keep in refrigerator.

Mix the plain flour, water, salt and melted butter until they

make a ball but don't over mix and keep in refrigerator.

Roll out the first mix until 1cm thicker and cover with the

dough base.

Close like a simple fold, roll out and give a second simple

fold and keep in refrigerator for 1 hour.

Repeat until six folds.

The inverted puff pastry is ready.
Mix all the ingredients for the sour cream.
Prepare the work place.

Scale the ingredients.

Slow vacuum cook salmon at 42°C for 22 minutes.