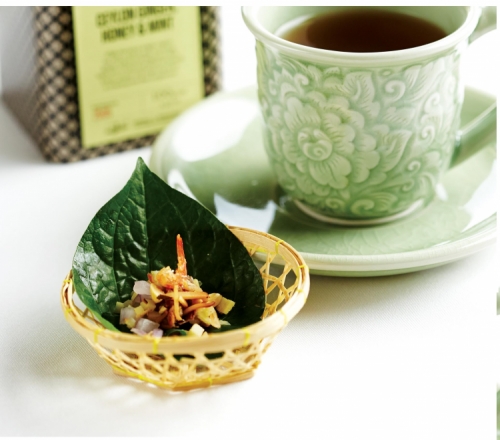 Food : Main Courses
MIANG KUM
Ingredients
Filling
• Thai Bitter Leaf
• 80g Lime, peeled and finely diced
• 80g Shallots, finely diced
• 80g Ginger, finely diced
• 80g Roasted Coconut
• 100g Roasted Peanut, chopped
Sauce
• 15g Ginger
• 10g Galangal
• 10g Roasted Peanuts
• 20g Roasted Coconut
• 5g Dry Shrimps
• 30g Palm Sugar
• 15ml Fish Sauce
• 30g Coconut Milk
• 5g Shrimp Paste
Method
To make the sauce, in a mortar and pestle

pound the ginger, galangal, dry shrimps,

roasted peanuts and roasted coconut until well

combined.

In a small pot bring to a boil the coconut milk,

shrimp paste, fish sauce and palm sugar and

simmer for 5 minutes.

Remove from the heat and combine it with the

pounded ingredients and cool down.
Created by : Reinolf Moessl