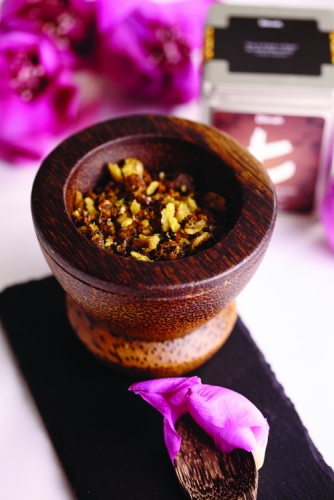 Food : Main Courses
MENG LOTUS
Ingredients
500g minced chicken
2 tbsp Dilmah Natural Ceylon Ginger Tea, loose leaf
40g plum sugar
30g tamarind juice
40g coconut flakes
5ml fish sauce
5ml oil
5g coriander root
2.5g pepper
80g roasted and chopped peanut
100g crispy Gourami fish
2 lotuses
Method
Heat oil, add coriander root and pepper.
Stir well until full flavour is drawn and then add the chicken.
Add tea leaves into the mix, stir until you extract the colour from the tea.
Add plum sugar, tamarind, fish sauce and coconut flakes.
Mix well until dry. Add roasted peanut and Gourami fish before serving.
The range of Dilmah Tea used
Dilmah t-Series Designer Gourmet Teas
The variety of Dilmah Tea used in the recipe
t-Series Natural Ceylon Ginger Tea
Created by : Anupong Nualchawee