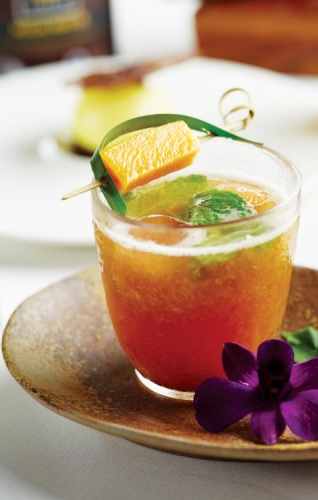 Drink : Mocktails/Iced Tea
MANGIFERA DILMAH
Ingredients
• 80ml Ceylon Honey Ginger Mint Tea (3 tsp.
brewed for 5 mins in 1L of hot water)
• 6pcs. Ripe Mango Cubes
• 30ml Mango Juice
• 8 Leaves Mint
• 30ml Yata Watte Tea Syrup (1 tsp. brewed for 5 
mins in 1L of hot water, reduced to a syrup with 
sugar)
• Cube of Mango in Stick, for garnish
Method
Prepare cubes of Mango marinated with tea 

syrup and set aside.

Pour all other ingredients into a Boston shaker 

with ice, and shake well.

Add mango cubes dressed in tea syrup into a 

glass. Add ice and pour the shaken beverage 

on top.

Top with the mango stick and serve.
The range of Dilmah Tea used
Dilmah Silver Jubilee Gourmet
The variety of Dilmah Tea used in the recipe
Silver Jubilee Ceylon Ginger, Honey & mint
Created by : Lloyd Aleta