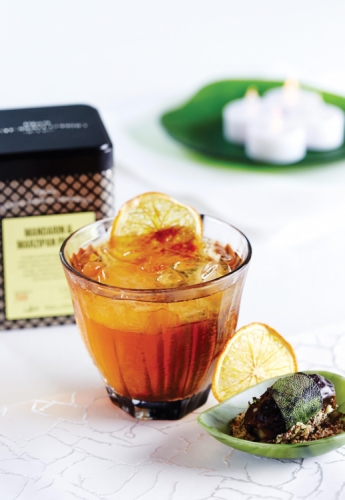 Drink : Mocktails/Iced Tea
MAN ZI KOE COOLER
Ingredients
• 50ml Homemade Vanilla Syrup
• 100ml Springtime Chocolate Mint Tea, 
carbonated
• 10pcs Fresh Mint Leaves
• 5pcs Lime Wedges
• Tea Leaves and Chocolate Bits for garnish
• Crushed Ice
Method
Muddle mint leaves, lime wedges and vanilla 

syrup together. Fill glass with crushed ice and 

top up with carbonated Springtime Chocolate 

Mint Tea. Stir well. Garnish with chocolate 

bits and tea leaves.
The range of Dilmah Tea used
Dilmah Silver Jubilee Gourmet
The variety of Dilmah Tea used in the recipe
Silver Jubilee Mandarin & Marzipan Pekoe
Created by : Max Rauch