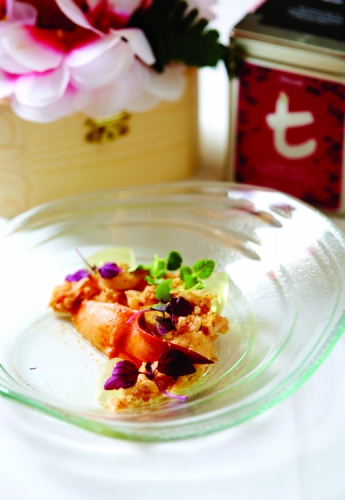 Food : Main Courses
LOBSTER CRÈME FRAICHE WITH VANILLA POD
Ingredients
400 – 500g Boston lobster
250g crème fraiche
3 nos vanilla pod
3 nos whole shallots, brunoise
2 lemon, juiced
Salt & pepper to taste
Dashi Stock & Clam Jus Jelly
30g bonito flakes
100ml water
100ml clam juice
1 gelatine sheet
Method
Blanch lobster in hot water
De-shell lobster. Chop into cubes to form lobster tartare. Pile tartare into mould.
Mince Dashi jelly.
Sprinkle Dashi jelly on tartare and season with garnish (mixed herbs).
Dashi Stock & Clam Jus Jelly
Combine 30g bonito flakes to 100ml water.
Bring water to boil, add 100ml clam jus till reduction is complete.
To make jelly, strain clam jus (100ml clam jus for 1 gelatine sheet).
Created by : Lee Zhang An