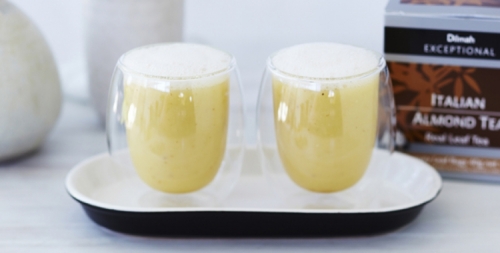 Drink : Mocktails/Iced Tea
Liquid Popcorn with Italian Almond Caramel Froth
IngredientsPopcorn
25g canola oil
100g popcorn kernels
750g water
90g butter
75g white sugar
7g salt
Italian Almond Caramel Froth
250g white sugar
200g water
75g simple syrup, 50/50 sugar and water brewed with 6 Dilmah Italian Almond Tea bags for 3 minutes
5g lecithin
MethodPopcorn
Heat the oil in a large saucepan over high heat until just smoking. Add popcorn and cook, covered, shaking the pan, for 3-4 minutes or until kernels have popped. Reserve 125g of popcorn and set aside.
Combine 125g popcorn, water, butter, sugar and salt in a large saucepan over high heat. Bring to the boil. Reduce heat to low and simmer for 5 minutes or until popcorn is tender.
Strain popcorn mixture through a fine strainer into a bowl, using the back of a spoon to push as much liquid as possible through until only the popcorn remains.
Transfer the liquid to a blender and blend at high speed for 3 minutes or until frothy. Set aside and keep warm.
Dilmah Italian Almond Caramel Froth
Combine the sugar and 75g of the water in a small saucepan over low heat. Cook, stirring, until sugar dissolves.
Increase heat to high and cook, without stirring, until syrup reaches 171°C on a candy thermometer. Remove from heat.
Carefully add the remaining water and sugar syrup and whisk until combined.
Set aside to cool completely.
Add the lecithin and use a hand blender to blend until frothy.
Pour the popcorn mixture among serving glasses.
Spoon over caramel froth and serve immediately.
The range of Dilmah Tea used
The variety of Dilmah Tea used in the recipe
Exceptional Italian Almond Tea
Created by : Peter Kuruvita