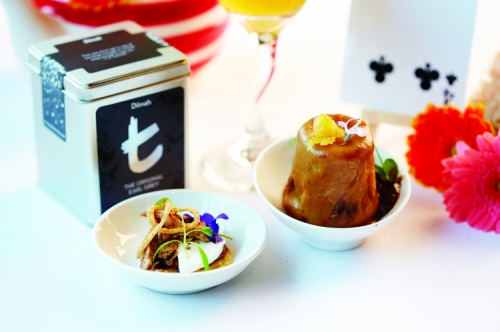 Food : Main Courses
LEG OF LAMB & PLUM PUDDING BRAISED LEG OF LAMB, RAISINS, SUET PUDDING & CANDIED FRUIT
Ingredients
1.5kg leg of lamb

4 tomatoes

2 whole garlic bulbs

3 onions

4 carrots

2 leeks

2 celery stalks

10 sprigs of thyme

10 sprigs of sage

4 sprigs rosemary

250ml red wine

200ml port wine

1 tbsp peppercorns

1 tbsp coriander seeds
500g raisins

100g sugar

150ml Madeira

Pinch of salt

Water
285g self-rising flour

125g suet

1 tsp baking powder

1 tbsp rosemary

1 tbsp raisins

1 tbsp orange peel

1 tbsp ginger

1 tbsp nutmeg
Method
Cut up all the vegetables for mirepoix.

Using a roasting pan fry off the leg of lamb on all sides until well coloured.

Remove the leg and add the vegetables to the same pan.

Fry for a few minutes and add the herbs and spices as well as the alcohol.

Cook down until about half the liquid is gone. Place the leg of lamb back in the roasting pan and cover with stock.

Cook in the oven overnight at 80C until the meat is falling off the bone.

In the morning, remove the leg and strain off the liquid into a saucepan.

Reduce until you have achieved a well flavoured sauce.

The sauce needs to be thick; this can be achieved by using some cornflour.

Mix the sauce with the pulled lamb meat and fill your suet puddings.
Cook a caramel with the sugar and raisins followed by the Madeira wine.

Bring it back to a boil and add the raisins.

Cook for 5-10 minutes and blend until smooth.
Bring together the pastry.
Created by : Monika Ederer