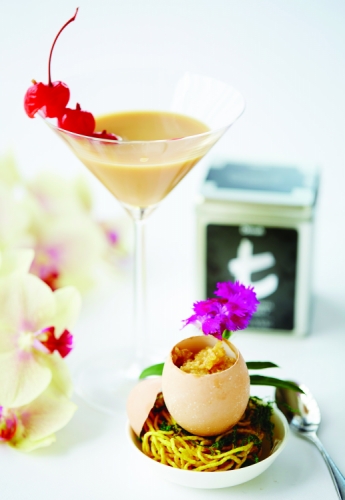 Food : Main Courses
KETAN SARIKAYA
IngredientsThe base
200g sticky rice, soak for about 2 hours in water
200ml water, boil
5g salt
Sariyaka mix
3 nos egg, whole
100ml coconut milk
200ml water
125g brown sugar
4g mocca paste
2g salt
20g corn flour
100g coconut, grated
Method
For the base, steam the soaked sticky rice for 15 minutes. Take it out and mix with salt and water. Steam again for 20 minutes till it's cooked.
Once cooked, set aside.
For the Sarikaya, boil the water and sugar until it dissolves.
Mix the rest of the ingredients together (except the egg) and pour it on to the egg mix. Stir well.
Pour the mixture on to the sticky rice base, steam again for about 45 minutes at 60°C temperature.
Created by : Nalendra Anindita