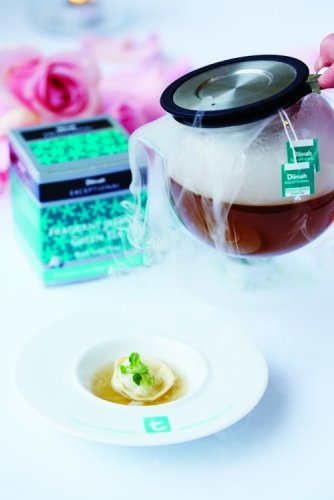 Food : Main Courses
JASMINE GREEN TEA CHICKEN DUMPLING IN CONSOMMÉ CHICKEN, MUSHROOM AND SPRING ONION WONTON
Ingredients
500ml chicken stock
5g coriander roots
3g ginger
1g cloves
1 cinnamon stick
1 star anise
1 bay leaf
30ml Sake
25ml Mirin
20ml light soy sauce
8 wonton wrappers
20ml vegetable oil
8g button mushrooms, diced
2g spring onions, chopped
1g chopped garlic
1g coriander
120g chicken mince
7 bags Dilmah Fragrant Jasmine Green Tea
Method
Clarify the chicken stock and bring it to a boil.
Remove from flame; add bay leaf cinnamon stick, cloves, star anise, ginger and coriander.
Cover it with foil and let it infuse the flavour of spices.
Add soy sauce, Sake and Mirin.
Pass through cheesecloth twice till the stock becomes clear.
Sauté garlic, shallots and mushroom in oil. Add chicken mince and cook for 15 minutes. Add finely chopped coriander and adjust seasoning.
Make wontons with chicken mince and wonton wrapper.
Blanch the wontons in tea (3 bags)
Garnish the soup plate with shredded chicken, mushroom, egg noodles and spring onion.
Dip the tea bags and dry ice into the hot consommé when serving.
Created by : Naomi Elizabeth Kilpatrick