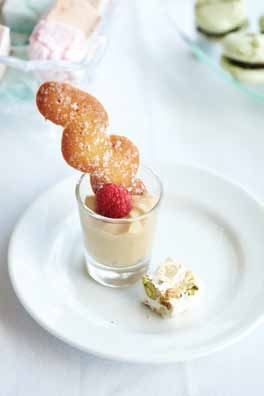 Food : Appetisers
Italian Almond Tea mousse, roasted hazelnuts and pistachio nougat
IngredientsMousse
50g hazelnut paste
6 egg yolks
60g castor sugar
75ml Dilmah t-Series Italian Almond tea
200g mascarpone
Nougat
350g honey
300g glucose
750g sugar
250ml Dilmah Exceptional Italian Almond tea
250g roasted almond
250g hazelnuts
250g pistachio
3 eggs white
MethodMousse
Make a sabayon with eggs yolk, castor sugar and Italian Almond tea, cook gently on a bain-marie.
Mix mascarpone cheers and hazelnuts paste, incorporate to the sabayon. Refrigerate till set and pipe into little glasses.
Nougat
Mix honey and glucose and cook to 128°C, mix sugar and Dilmah Exceptional Italian Almond tea and cook to 145°C.
Whip up eggs white and add the two sugar solutions to it.
Fold all the roasted nuts through meringue, cool and set in dry place.
The range of Dilmah Tea used
The variety of Dilmah Tea used in the recipe
Exceptional Italian Almond Tea