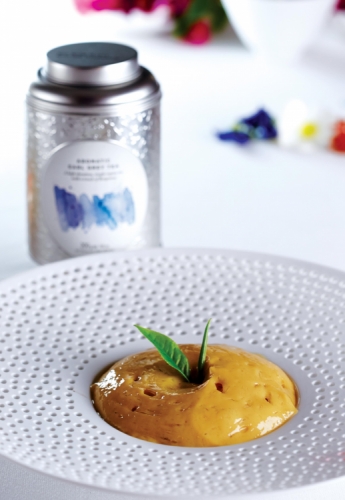 Food : Main Courses
ICED TEA PEACH
IngredientsDiplomate Cream
0.520kg Milk
0.114kg Yolk
0.1kg Honey
0.05kg Maizena
0.003kg Gelatin
0.24kg Whipped Cream
Earl Grey Tea Emulsion
0.12kg Egg Whites
0.2kg Earl Grey Tea
0.05kg Sugar
0.006kg Gelatin
Tea Granité
0.1kg Earl Grey Tea
0.005kg Lemon Juice
Roasted Peach
0.5kg Peaches, halved
Honey, as needed
MethodDiplomate Cream
Boil milk with the honey. To it, add yolk with Maizena. Cook for 3 minutes. Add the gelatin. Let cool and finally fold in the whipped cream.
Earl Grey Tea Emulsion Method
Make your syrup using sugar, tea and gelatin. Take off heat. Add your egg whites when the syrup is cold. Put in a syphon.
Tea Granité
Make your tea and add the lemon juice. Freeze.
Roasted Peach
Cook half a peach in the oven for 10min at 180°C. Let cool and pull out the skin. Glaze with honey.
The range of Dilmah Tea used
The variety of Dilmah Tea used in the recipe
Created by : Pierre Jean Arpurt