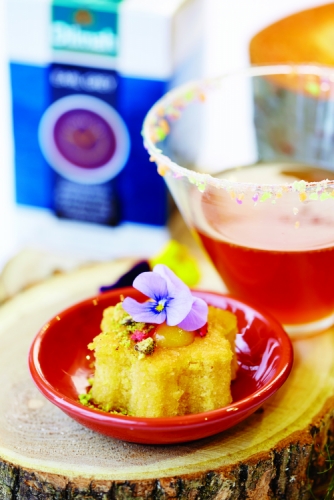 Food : Main Courses
HONEY GLAZED SPONGE CAKE WITH LEMON CURD, PISTACHIO & BAKED STRAWBERRIES
IngredientsSponge Cake
4 eggs
110g sugar
100g flour
60g melted butter
5g lemon zest
100g honey
Lemon Curd
125g lemon juice
125g sugar
2 eggs whole
2 egg yolks
125g melted butter
Garnish
70g pistachio
50g strawberries
20g icing sugar
MethodSponge Cake
Beat the egg and sugar until pale and creamy.
Add flour, melted butter, lemon zest all together mix well and bake at 180C for 17 minutes.
Lemon Curd
Whisk all together on double boiler until about 60C. Cool it down on ice water after taking off the heat.
Garnish
Roast 70g pistachio on pan slowly. Add 20g icing sugar while tossing. Blend it.
Bake 50g strawberry with icing sugar at 175C for 6 minutes.
Created by : Jagdev (JD) Singh