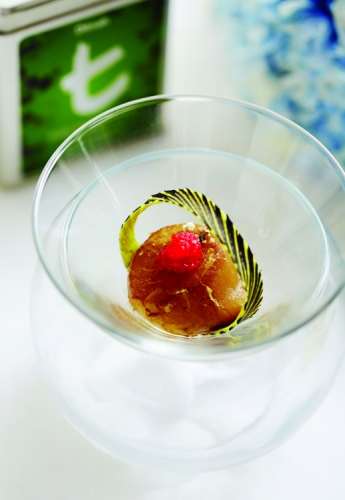 Food : Appetisers
HOKKAIDO SCALLOP WITH PEPPERMINT LEAVES SAUCE
IngredientsScallop with Peppermint Sauce
5 pcs scallop
300g water
20g Dilmah Pure Peppermint Leaves
Edible Sand
Moito
Ice corn
Miso oil
Baby eel
Japanese bread crumb
Konbu powder
Salt & pepper
Silver dash
MethodScallop with Peppermint Sauce
Boil the water and add the Dilmah Pure Peppermint Leaves.
Remove from fire and cover with aluminium foil.
Cool down the mixture and then add the scallops.
Soak for 1 night.
Edible Sand
Boil Miso oil and Moito.
Fry baby eel, Japanese bread crumb and konbu powder.
Mix all together until crumbs form.
Lastly add silver dash.
The range of Dilmah Tea used
Dilmah t-Series Designer Gourmet Teas
The variety of Dilmah Tea used in the recipe
t-Series Pure Peppermint Leaves
Created by : Mohd Tusnim bin Mansor