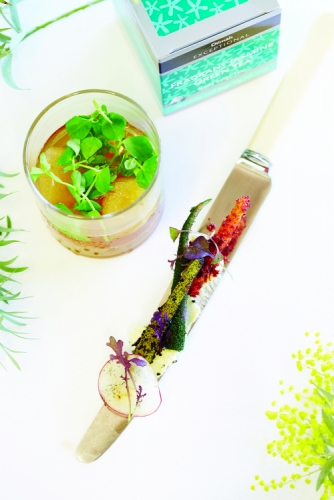 Food : Main Courses
HEIRLOOM CRUDITIÉS
IngredientsHeirloom Carrots
3 heirloom carrots in different colours, blanched and peeled
Beetroot Dust
1 beetroot, sliced and fried till crisp
1 cup garlic crumbs (cooked in butter)
Black Sesame Dust
2 tbsp black sesame
¼ tsp cumin
1/8 tsp cayenne pepper
½ tsp salt
Nettle Dust
A handful of nettle leaves
Sherry Butter
100g mascarpone whipped
50g unsalted butter
10ml sherry vinegar
Salt and pepper
Garnish
Red radish, sliced
Red elk
MethodBeetroot Dust
Pound fry beetroot and crumb till smooth.
Black Sesame Dust
Pound till smooth in mortar with a pestle.
Nettle Dust
Blanch in boiling water. Add in the egg and the rest of the ingredients.
Refresh and leave to dry for 5 hours in a warm dry place.
Pound till smooth.
Sherry Butter
Whip butter and mascarpone, add sherry vinegar and salt and pepper.
Slice red radish.
Created by : Mitchell Grady