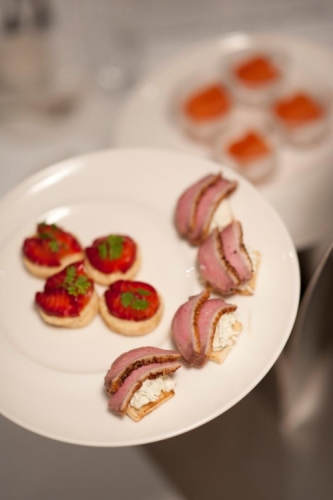 Food : Main Courses
Green tea with jasmine smoked duck breast with celeriac remoulade on brioche toast
Ingredients
1 cup brown sugar
1 cup green tea
1 cup rice
1 celeriac
4 tbsp whole egg mayonnaise
20g chopped chives
2 duck breasts, cleaned and scored
1 brioche baguette
Pink sea salt for garnish
Method
Mix brown sugar, green tea and rice together and place in a smoking box.
Put duck breast on rack, smoke for 20 minutes on low heat.
Peel celeriac. Finely julienne and fold into mayonnaise with chives.
Cut brioche into 2cm round croutons, toast in oven at 120C for 4 minutes.
Remove duck from smoke box (skin side down), place in cold frying pan (non-stick) turn on low heat, cook for 10 minutes or until skin is golden.
Slice duck thinly, put celeriac on croutons, 2 slices of duck, garnish with sea salt.
The range of Dilmah Tea used
Dilmah t-Series Designer Gourmet Teas
The variety of Dilmah Tea used in the recipe
t-Series Green Tea with Jasmine Flowers