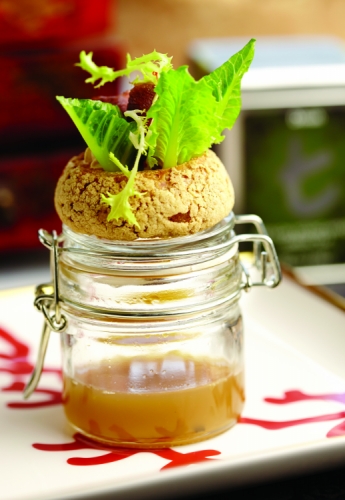 Food : Main Courses
GREEN TEA SMOKED DUCK BREAST SAVORY CHOUX BUN, PAPRIKA SOUR CREAM AND CONSOMMÉ
Ingredients
30g Dilmah Ceylon Green Tea smoked duck breast
15g savoury choux bun
15g sour cream
2g paprika
30ml duck consommé
2g mix cress
20ml olive oil
Salt & pepper, to taste
Mirepoix
Dried lavender
Method
To flavour the meat smoke the cured duck breast with Dilmah Ceylon Green Tea.
Once smoked slice the meat and roll.
Mix together the paprika and sour cream, check the seasoning.
Arrange the rolled meat and mix cress.
Make the choux bun in to a sandwich.
Roast the duck bone and cook together with mirepoix to make the stock for consommé. Infuse the consommé with dried lavender for aroma.
The range of Dilmah Tea used
Natural Green Tea Selection
Created by : Andreas Andersson