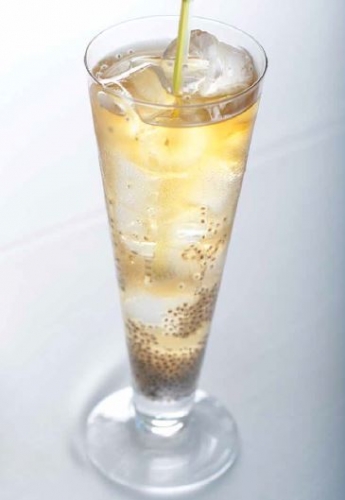 Drink : Mocktails/Iced Tea
Green Tea Moroccan Mint
Ingredients
1 Dilmah Green Tea with Moroccan Mint tea bag
10g basil seeds
50ml Sprite
1 sprig of mint
Method
Soak Basil seeds pre-hand into room temperature water for 5 minutes.
Steep 1 tea bag of Dilmah Green Tea with Moroccan Mint.
Fill glass with ice to the brim.
Add basil seeds into glass.
Pour tea over ice. Top up ice if necessary. Leave space for Sprite.
Top up with Sprite.
Garnish with a sprig of mint.
The range of Dilmah Tea used
Dilmah t-Series Designer Gourmet Teas
The variety of Dilmah Tea used in the recipe
t-Series Moroccan Mint Green Tea