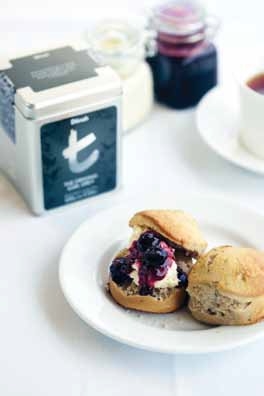 Food : Appetisers
Gourmet Series Earl Grey scones and Berry Sensation tea jam
IngredientsScones
500g self-raising flour
1 egg
50g castor sugar
60g butter
200ml Dilmah t-Series Earl Grey brewed tea
50ml milk
Jam
500g berries
1 lemon, juiced
500g castor sugar
120ml strong brewed Dilmah Exceptional Berry Sensation tea
1 packet fruit pectin
MethodScones
Thoroughly mix all the ingredients together, roll into 1 inch thickness and use round cutter to obtain scones shape, brush with milk and dust with a bit of castor sugar.
Bake at 180°C for 12 minutes.
Jam
Brew 4 Berry Sensation tea bags in 1 litre of water and reduce it to 120ml.
Add all the ingredients and simmer for 1 1/2 hour. Pour into sterilised jar.
The range of Dilmah Tea used
Dilmah t-Series Designer Gourmet Teas
Dilmah Exceptionals
The variety of Dilmah Tea used in the recipe
t-Series The Original Earl Grey