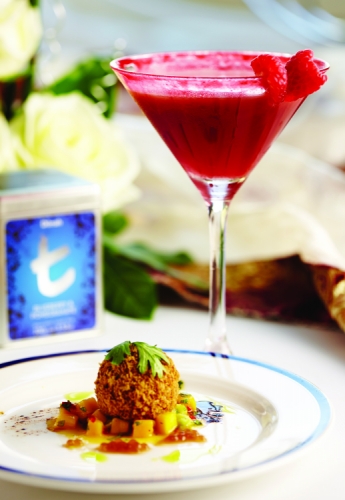 Food : Savory
GOLDEN FRIED CHICKEN DUMPLING
Ingredients
200g mince chicken

30g lemongrass

3 lemon leaves

50g potato boiled

Salt and pepper, to taste

1 egg

Panko Japanese bread crumb
25g ripe mango

1 sprig fresh coriander

25g cucumber

5g red chilli

5g mango chutney

10ml chilli sauce
MethodFried Chicken Dumpling
Mix mince chicken, lemongrass and lemon leaves in a Robot-Coupe machine until it becomes a smooth paste.

Correct the seasoning and add boiled potato.

Shape into balls and keep in a freezer to set a little bit.

Pass through seasoned egg wash and bread crumbs.

Fry till golden brown.
Chop mango and cucumber into small dices.

Chop the red chilli without seeds.

Finally mix all ingredients together.

Correct the seasoning.
The range of Dilmah Tea used
Dilmah t-Series Designer Gourmet Teas
The variety of Dilmah Tea used in the recipe
t-Series Blueberry & Pomegranate
Created by : Lloyd Aleta