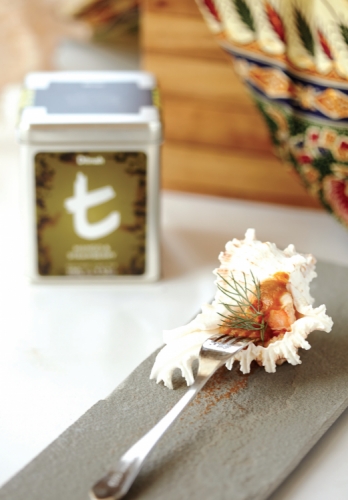 Food : Main Courses
FRUIT & SEA
Ingredients
500g Phuket lobster

20g Nam do mai mango

5g dill
Mango & Strawberry Tea Sauce
300g Nam dok mai mango

5g sugar

3g salt

5ml olive oil

20g Dilmah Mango & Strawberry Tea
MethodPhuket Lobster
Poach Phuket lobster till cooked and cut in to 1cm cubes.

Peel mango and cut into 0.5cm cubes.

To serve, garnish with dill.
Mango & Strawberry Tea Sauce
Heat olive oil in a pan.

Add all the ingredients to the pan and stir till it becomes a smooth paste.

Strain through to extract the sauce.
The range of Dilmah Tea used
Dilmah t-Series Designer Gourmet Teas
The variety of Dilmah Tea used in the recipe
t-Series Mango and Strawberry
Created by : Krairat Jeeranon