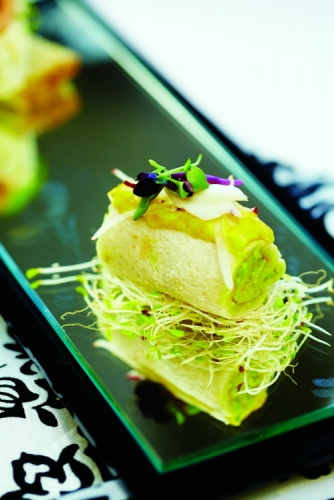 Food : Main Courses
FRESH CURRY EGG PINWHEEL SANDWICH
Ingredients
White bread cut lengthwise, crust removed
2 eggs
30g mayonnaise
Mild curry
Salt and pepper
Alfalfa sprouts
Shredded iceberg lettuce
Garnish
1 Boiled egg white, diced
Julianne red radish
Curry powder, to dust
Shaved iceberg lettuce
Mixed baby herbs
Method
With a rolling pin roll the white bread flat.
Boil 2 eggs and then shell and blend with mayo and curry spice and salt and pepper.
Spread the egg mix over the bread evenly and not too thick.
Spread the shaved iceberg lettuce over the egg and the roll up and wrap tightly with cling-film.
To serve, remove cling-film and trim the ends of the sandwich.
Using the garnish items, run down the spine of the pinwheel and place on alfalfa sprouts.
Created by : Ryan Kennewell