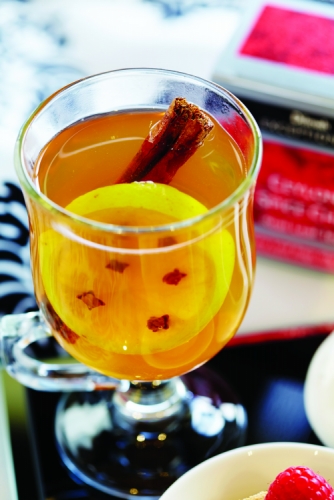 Drink : Chai
FIRE AND SPICE CHAI COMFORTER
Ingredients
1 tea bag Dilmah Exceptional Ceylon Spice Chai Tea
½oz agave syrup
Fresh ginger, roughly 2cm piece
1 lemon wheel
4 cloves
1 cinnamon stick
Absinthe mist
220ml water
Method
Place a small piece of ginger in an Irish coffee glass.
Cut a lemon wheel and into the lemon wheel push four cloves so they sit snugly.
Place the Dilmah Ceylon Spice Chai Tea bag in the glass and pour boiling water directly on to it. Brew the tea as per pack instructions.
While the tea is steeping add agave syrup.
Once the tea has steeped for approximately 4 minutes remove the bag.
Add the cinnamon stick, get the absinthe filled atomizer and flame the absinthe over the top.
The range of Dilmah Tea used
The variety of Dilmah Tea used in the recipe
Exceptional Ceylon Spice Chai
Created by : Ryan Kennewell