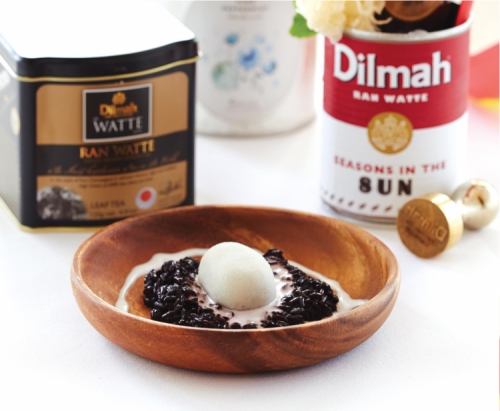 Food : Appetisers
EDIBLE MOONSTONES WITH LOTUS PASTE
Ingredients
Moonstone Dough (makes about 20 Moonstones, 20g each – made with 100g Kaofen (Glutinous Rice Flour), sifted, 80g Icing Sugar, sifted, 30g Shortening and 150g Iced Water)
Lotus Paste mixed with Almond Flakes (25g for each Moonstone)
Black Glutinous Rice Base (made with 200g Black Glutinous Rice Flour, 50ml Coconut Milk, 30g Sugar and 600ml Water)
Method
Mix ingredients for moonstone dough and knead carefully.
Roll lotus and almond paste into balls.
Wrap lotus paste balls with moonstone dough and fold / roll to shape.
Drizzle with Kaofen for additional texture.
To make the rice base, boil water with black glutinous rice flour, add sugar until mixture becomes starchy, drizzle in coconut milk and take off heat.
Arrange moonstones on top of the black glutinous rice base and serve.
Created by : Lee Zhang An