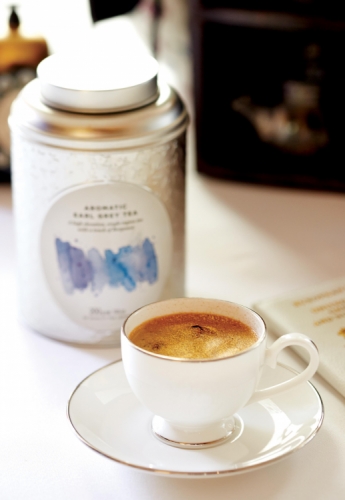 Drink : Mocktails/Iced Tea
EARL OF CHOCOLATE
Ingredients
• 90g Milk
• 90g Cream
• 15g Earl Grey Tea
• 30g Egg Yolks
• 45g Sugar
• 5g Gelatin Leaves
• 145g Whipping Cream
• 240g Butter
• 240g Sugar
• 190g Egg
• 90g Cake Flour
• 280g Chocolate, melted
Method
Chocolate mousse
Heat the milk and cream –

and infuse with the tea.

When cooling add the

egg slowly and allow the mixture to thicken

slightly, leave to cool.

When cold add the rest of

the gelatin and allow to set.
Chocolate brownie
Cream together the sugar

and butter till white and fluffy. Slowly add the

eggs and fold in the rest of the ingredients.

Spread thinly onto a baking sheet and bake for

10mins.

Layer the cup with the mousse and brownie

followed by sour cherries until the cup is 2/3

full. Sprinkle with peppermint cocoa powder

and serve cold.
The range of Dilmah Tea used
The variety of Dilmah Tea used in the recipe
Created by : Ho Wing Hong