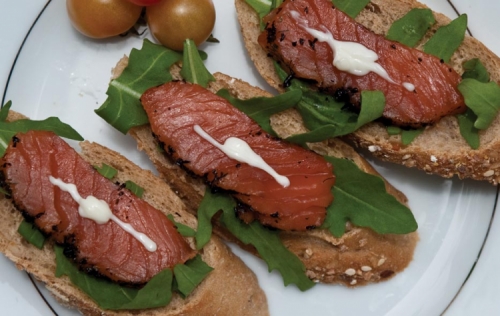 Food : Main Courses
Earl Gray Tea Infused Cured Atlantic Salmon Open Sandwich On Multigrain Loaf
Ingredients
• 25g Dilmah Earl Grey Tea
• 1 no. Whole Salmon Filleted Skin On/Bones
Out
• 25g White Pepper Corn Ground
• 1 bunch Chopped fresh Dill
• 500g Salt
• 500g Sugar
• Juice and Zest of 01 no. Orange & 01 no.
Lemon
• 10 nos. Multi Grain Bread Loaves
• 10g Honey
• 10g Grain Mustard
• 05ml Lemon Juice
• 20g Mayonnaise
• 02g Fresh Herbs Finely Chopped
• Salt/Black Pepper
• 100g Rocket lettuce
Method
Wash and Fillet the Whole Salmon. Remove all

the bones using a tweezer.

Mix all the ingredients

and rub the fish with mixture. Place fillet skin side

down on a large dish and the second fillet back to

back and cover with Aluminium Foil. Then weigh

it down with heavy chopping board and refrigerate

for 12 hours. Then turn the fish and re-weight for

another 12 hours.

Remove from the pan and drain

off the liquid. Wash the fish with cold running

water quickly and wipe off with a paper towel.

Finely chop dill and mix with 1 tablespoon Earl

Grey Tea.

Rub the fish with Olive oil then rub

the dill and Tea Mixture. With long knife slice the

Salmon diagonally into very thin slices.

Cut the Bread loaves diagonally and dress with

rocket lettuce and cherry tomato. Then arrange

Cured Salmon on top and drizzle dressing over it.

Serve Immediately.
The range of Dilmah Tea used
The variety of Dilmah Tea used in the recipe