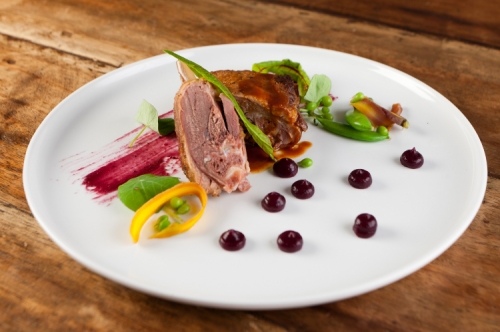 Food : Main Courses
Confit Duck
Ingredients
·        
6 Duck
Legs
·        
2 kg
Rock Salt
·        
Thyme
·        
Bay
Leaves
·        
Pepper
Corns
·        
Orange
Zest
·        
Oil
·        
2L
Duck Fat
Method
1.     
Cure
duck legs in salt and mix for 6 hours
2.     
Rinse
off salt mix and vacuum pack (seal in a plastic bag) with oil
3.     
Sous-vide
at 80 degrees overnight
The range of Dilmah Tea used
Dilmah t-Series Designer Gourmet Teas
The variety of Dilmah Tea used in the recipe
t-Series Natural Infusion of Blueberry and Clove
Blueberry and Clove Gel
Ingredients
· 1 cup Frozen Blueberries
· 500ml White Chicken Stock
· 2 teaspoons Balsamic Vinegar
· 6g Natural Infusion of Blueberry and Clove Infusion
· 10 cloves
· Sea salt
· 8g agar agar
Method
1. Place blueberries in sauce pan with all ingredients except agar agar.
2. Bring to boil and simmer for 20 minutes
3. Strain and return to pan and reduce to 500ml, add agar agar and cook till dissolved.
4. Cool over an ice bath till set, transfer to a blender and puree till smooth.
5. Strain and keep in fridge
The range of Dilmah Tea used
Dilmah t-Series Designer Gourmet Teas
The variety of Dilmah Tea used in the recipe
t-Series Natural Infusion of Blueberry and Clove
Created by : Peter Kuruvita