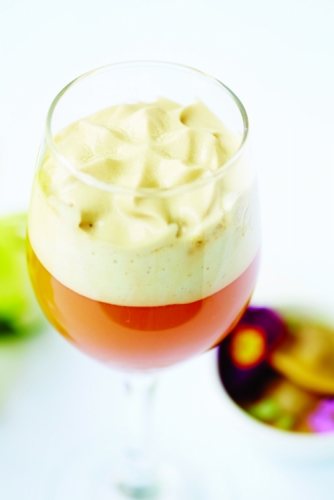 Drink : Cocktails
DILMAH NATURAL CEYLON GINGER TEA BEER
Ingredients
Dilmah Natural Ceylon Ginger Tea Beer
1 lemon rind

125ml fresh lemon juice

6 raisins

375ml white sugar

2.5l spring water

100ml Dilmah Natural Ceylon Ginger Tea

5g instant dried yeast
Dilmah Natural Ceylon Ginger Beer Foam
200ml egg whites

200ml Dilmah Natural Ceylon Ginger Tea
MethodDilmah Natural Ceylon Ginger Tea Beer
Bring the water to a boil. Add the Dilmah Natural Ceylon Ginger Tea, stir and brew for 5 minutes.

Strain the mixture and mix in the sugar to dissolve.

Add the lemon rind, juice and raisins to the tea.

When the temperature reaches 37C, sprinkle the yeast over the top.

Allow the yeast to stand for 5 minutes before stirring.

Once stirred cover and leave out at room temperature for 5 hours.

Strain the mixture and chill.
Dilmah Natural Ceylon Ginger Beer Foam
Brew the Dilmah Natural Ceylon Tea in 200ml of 100C spring water.

Stir and allow to brew for 5 minutes, cool.

Mix together with the egg whites.

Create the foam using the espuma gun with 1 charge.
The range of Dilmah Tea used
Dilmah t-Series Designer Gourmet Teas
The variety of Dilmah Tea used in the recipe
t-Series Natural Ceylon Ginger Tea
Created by : Brent Assam