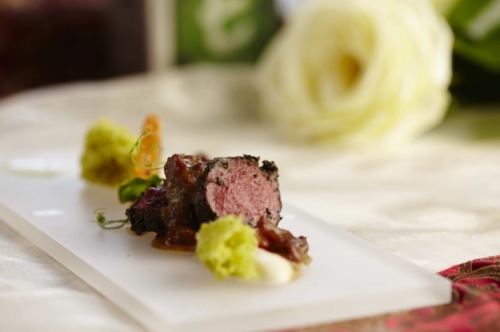 Food : Main Courses
Dilmah Moroccan Mint Green Rubbed Lamb Loin
Ingredients
1 no. lamb loin
5 tea bags Dilmah Moroccan Mint Green Tea
100g cauliflower
1/2 litre milk
5 g onion (chopped)
50 g butter
1 no. pumpkin
1 tbsp honey
200 ml vegetable stock
½ tsp chopped parsley
100 ml lamb jus
3 pcs semi sundried tomato
1 sprig thyme
Method
Marinate lamb loin with tea and season it. Roll it in a cling film and vacuum pack it. Cook in a warm water bath for 45 minutes at 54 degrees Celsius.
Sauté onion in butter, add milk and cauliflower. Cook till tender. Blend it into a smooth purée and season it.
Cut pumpkin in square baton. Cook it like a fondant and glaze it with honey and butter glaze. Season it and finish with chopped parsley.
Chop sun-dried tomato, add lamb jus and flavour with thyme.
The range of Dilmah Tea used
Natural Green Tea Selection
The variety of Dilmah Tea used in the recipe
Created by : Lloyd Aleta