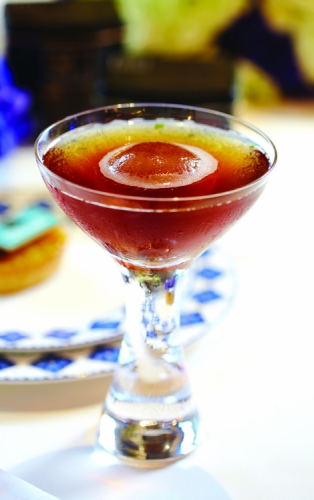 Drink : Mocktails/Iced Tea
DILMAH MEDA WATTE TEA MOCKTAIL
Ingredients
55ml Dilmah Meda Watte Tea
2 basil leaves
15ml sugar syrup
1 dash lemon juice
Round Tea Ice Ball
80ml Dilmah Meda Watte Tea
Method
Boil Aqua Panna water in the boiler till it reaches 70 – 80°C.
Place Dilmah Meda WatteTea in a tea pot.
Add boiling water to the tea pot over the tea.
Stir while water is being poured in the tea.
Allow tea to brew for at least 5 minutes.
Strain the tea to another tea pot and allow cooling.
Take a Boston shaker and add basil leaves, sugar syrup and lemon juice to muddle.
Add the Dilmah Meda WatteTea (cooled) to muddled mixture.
Shake the drink well.
Pour the mocktail into a glass over the round tea ice ball.
The range of Dilmah Tea used
Dilmah Watte Boutique Tea
The variety of Dilmah Tea used in the recipe
Created by : Kenny Chen