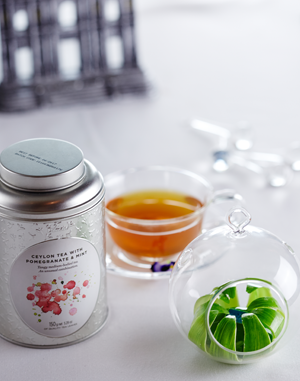 Drink : Mocktails/Iced Tea
Dilmah Hot Tea Mocktail
Ingredients
1.5g Ceylon tea with pomegranate & mint
0.5g Dried Hawthorn
10ml Vanilla sugar syrup
0.3g Dried longgan
0.5g Dried wolfberry
120ml Single Boiled Aqua Fresh Water
Method
Boil Aqua fresh water in the boiler till it reaches the boiling point.
Add the dried fruits into the tea.
Add boiling water.
Stir while water is being poured into the tea.
Allow tea to brew for at least 4 minutes.
Stir again after the brewing has been done.
Use a strainer to pour the tea in pre heated cups.
The range of Dilmah Tea used
Vivid Tea Selection by Dilmah
The variety of Dilmah Tea used in the recipe
Vivid Ceylon Tea with Pomegrante & Mint
Created by : Kenny Chen