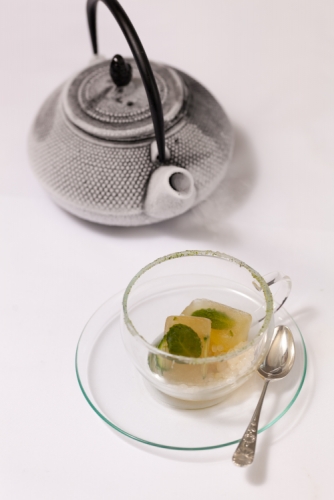 Drink : Mocktails/Iced Tea
Dilmah Green Tea with Lemongrass & Moroccan Mint Ice Cubes
Ingredients
800ml hot water (at 100°c)

8 bags Dilmah Green Tea with

Natural Lemongrass and Lemon

40ml sugar syrup

240ml lemongrass consommé

4 tbsp lemongrass and ginger caviar
Dilmah cucumber and Moroccan
Mint ice cubes
400ml hot water

4 Dilmah Moroccan Mint tea bags

1/2 cucumber

12 mint leaves

15g ginger syrup
50g glucose

30g icing sugar

3g bicarb

5g citric acid

18g cucumber

Salted water
Method
Brew hot water and Dilmah Green Tea with Natural

Lemongrass for 2 minutes.

Strain and chill.

Once cool, add sugar syrup and consommé to the tea.
Dilmah cucumber and Moroccan
Mint ice cubes
Infuse tea in hot water for 2 minutes. Strain.

Brush mould with ginger syrup.

Thinly slice cucumber and lay into moulds.

Fill with chilled mint tea and one mint leaf to garnish.

Freeze.
Rim the glass or tea cup with cucumber sherbet.

Dress the glass/cup with a slice of cucumber, two mint ice

cubes and ginger caviar.

Strain chilled Dilmah Green Tea with Lemongrass into a

teapot through dry ice to create to a steaming hot pot.

Pour on top of the ice cubes and caviar.
The range of Dilmah Tea used
Dilmah Silver Jubilee Gourmet
The variety of Dilmah Tea used in the recipe
Silver Jubilee Moroccan Mint Green Tea
Created by : Chris Webb