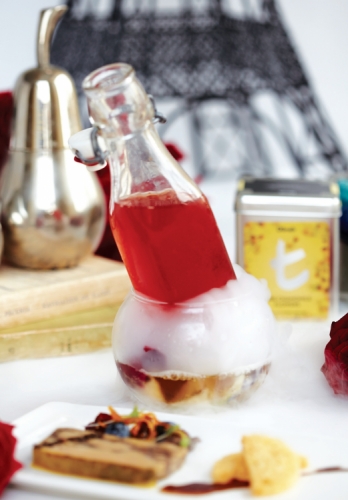 Drink : Cocktails
DILMAH BLUEBERRY AND POMEGRANATE TEA COCKTAIL WITH FRESH BLUEBERRY
Ingredients
Dilmah Blueberry and Pomegranate Tea Infused Vodka
200ml vodka

6g Dilmah Blueberry and Pomegranate Tea

20g blueberry

20g pomegranate

20g raspberry

15ml brown sugar water

Ice cube
30ml hot Dilmah Pure Chamomile Flowers, brewed as per pack instructions to desired strength

1 small milk bottle, cleaned and sterilised

1 glass bowl

100g dry ice

1 straw
MethodDilmah Blueberry and Pomegranate Tea Infused Vodka
Take 200ml high-quality vodka.

Add 6g of Dilmah Blueberry and Pomegranate Tea.

Shake firmly and leave for 12 minutes.

Triple strain into a small jug.

Put blueberry, pomegranate and raspberry in a Boston shaker.

Muddle till a pulp forms.

Add 45ml Dilmah Blueberry and Pomegranate Tea infused vodka.

Add 15ml of brown sugar water.

Add ice cubes on top.

Shake firmly.

Double strain into a small milk bottle.
Place dry ice into a glass bowl.

Place the milk bottle in a glass bowl on top of dry ice.

Add Dilmah Pure Chamomile Flowers into the glass bowl until smoke appears.

Drop a straw into the drink and serve.
The range of Dilmah Tea used
Dilmah t-Series Designer Gourmet Teas
The variety of Dilmah Tea used in the recipe
t-Series Blueberry & Pomegranate
Created by : Tim Reus