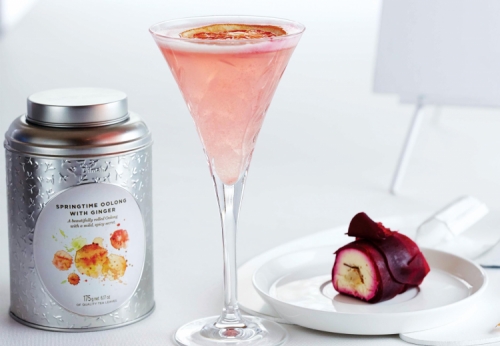 Food : Main Courses
DECEPTION
Ingredients
Foie Gras In Roasted

Almonds
• 50g Foie Gras
• 20g Flaked Almonds
Roasted Almond And

Goat's Cheese Mousse
• 500ml Cream
• 200g Flaked Almonds, roasted
• 120g Goat's Cheese
• 10g Gelatin, softened
• 300ml Cream, semi whipped
• Salt and Pepper to taste
• 8 Large Red Plums
• 200ml Water
• 200g Castor Sugar
• 100ml White Wine Vinegar
• 5g Purple Food Colour Powder
• 130g Castor Sugar
• 60g Glucose
• 50ml Water
• 12g Ground Dried Raspberries
• 3g Red Food Colour Powder
Method
Foie Gras In Roasted

Almonds
Roast the flaked almonds for 10 to 15 mins at

180°C or until golden brown. Remove from the

oven and allow to cool. Cut the Foie Gras into

3mm wide strips, as long as possible. Roughly

chop the flaked almonds and carefully roll the

Foie Gras in it, coating it well. Freeze until

needed for the mousse.
Roasted Almond And
Goat's Cheese
On a baking tray, place the flaked almond and

roast in the oven for 20 minutes at 180°C.

Meanwhile, in a small saucepan, bring the first

amount of cream to the boil.

Stir in the hot roasted almonds and allow

infusing for 1 hour.

After 1 hour or when flavour is achieved, place

300ml of the almond and milk cream into a

saucepan and bring to the boil.

When it has reached the boiling point, take off

the heat and whisk in the gelatin.

Place the goat's cheese in a bowl and strain the

cream over it.

Whisk until smooth and allow to cool to

at 40°C.

Fold though the semi whipped cream and

season to taste.

Cover the mousse with glad wrap so that it will

not form a skin and allow to firm up.

When the mousse has firmed up, place into a

piping bag with a size 8 nozzle.
Bring water and sugar to boil, stir in white

wine vinegar and colour.

Slice the plums as thinly as possible and place

into a container.

Strain the hot poaching liquid over the plums

and cover. Allow to cool completely.

Then strain the plum slices and place them

over paper towels to get rid of any excess

liquid.

Lay a piece of glad wrap over a chopping

board 20cm long and lay the plum slices flat

with the ends crossing over, to look like fish

scales.

Only lay enough plum slices to cover the Foie

Gras and almond mousse tube.
Place the sugar, glucose and water into a small

saucepan and bring to 160°C.

When it has reached the temperature pour onto a silpat mat and allow to cool.

When the toffee has set, break up into small

pieces and place into a dry clean blender with

the colour and dried raspberries and blend

until a fine powder is formed.

Sieve onto a silpat mat and into a 3x3cm

square and bake at 170°C for 8 to 10 minutes.

Take out of the oven and cool.
Created by : Althea Montano