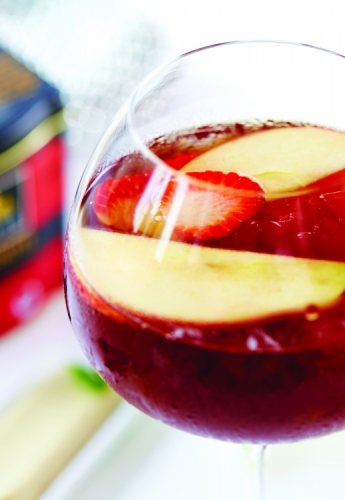 Drink : Cocktails
DAISY SANGRIA
Ingredients
2g Dilmah Uda Watte Loose Leaf

110ml cold water

15ml lemon juice

10ml simple syrup

45ml Pinot Noir, Robert Mondavi USA

20ml Hennessy XO

1 can soda water

5g black grapes

1 of green apple
Method
Do a cold brew with 110ml cold water.

Cut half of an apple and grape then place them in a mixing glass. Muddle well.

Pour all ingredients into a mixing glass and stir until it is mixed well.

Do a julep strain and pour into a wine glass.

Place an ice cube inside and top up with some soda water.

Garnish with a slice of apple, grape and lemon.
Glassware
Red wine glass

The range of Dilmah Tea used

Dilmah Watte Boutique Tea

The variety of Dilmah Tea used in the recipe

Created by : Fandy Wijaya Adi