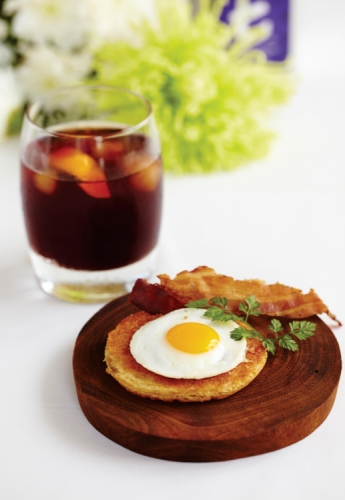 Food : Main Courses
"CROQUE MADAME" REVISITED
Ingredients
20g brioche bread

5g butter

5g flour

2 quail eggs

5g Gruyere cheese

Pinch of nutmeg

Pinch of cinnamon

5g smoked pork belly

100ml milk
Method
Slice the brioche bread to 3mm slices

.

Make a Béchamel sauce by heating the flour and the butter together. Add the milk and cook till you have a thick sauce. Incorporate the Gruyere cheese to the mixture.

Slice the pork belly really thin and cook between 2 trays in the oven at 150°C for 5 minutes.

Cover one slice of brioche bread with the sauce Mornay, add 1 raw quail egg yolk and cover with another slice of brioche bread.

Ring it at an 80mm diameter and cook on both sides in clarified butter. Cook 1 quail egg sunny side up and top the sandwich with it.
Created by : Napawan Phourkan