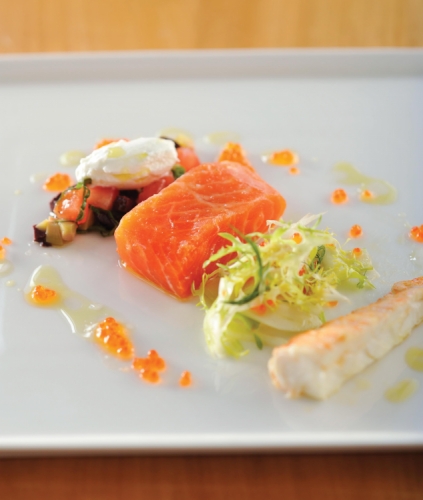 Food : Appetisers
Confit of Petuna Ocean Trout and Moreton Bay Bug with Ceylon Green Tea Dressing
Ingredients
• 10 tea bags Dilmah Pure Ceylon Green Tea
• 500ml Olive oil
• 500ml Grape Seed oil
• 6 Petuna Ocean trout (50g each)
• 6 Moreton Bay bug (50g each, shelled)
• 1 Lemon (zest)
• 2 sprigs of Thyme
• 12 pitted Black Olives (diced)
• 6 pitted Green Olives (diced)
• 3 Tomatoes blanched (diced)
• 3 Basil leaves (thinly sliced)
• 6 Parsley leaves (thinly sliced)
• 6 teaspoons Goat's curd
• 1 Baby fennel head (thinly sliced)
• 6 teaspoons Ocean Trout Roe
• 1 cup Frisée (pickled)
• 75ml Spring Water
• 1 tablespoon Lemon juice
Method
Place the olive oil, grape seed oil, lemon zest,

thyme and 8 Ceylon Green Tea bags in a saucepan,

over the lowest heat possible. Using a candy

thermometer bring the infused oil to 50°C.

Strain

oil and place ocean trout in oil for 8 minutes.

Meanwhile, bring the spring water to the boil in a

small saucepan.

Infuse 2 Ceylon green tea bags for

3 minutes and then strain.

Heat 2 tablespoons of the infused oil in a frying

pan over medium-high heat. Cook the bugs for 1-2

minutes each side until almost cooked through.

Set aside.

Mix olives, tomatoes, basil and parsley and spoon

onto 6 plates.

Arrange ocean trout and bug meat

onto plates and garnish with goat's curd, ocean

trout roe, shaved fennel and frisée. In a small bowl,

mix spring water infusion, lemon juice and 100ml

olive oil and grape seed oil mixture. Drizzle over

ocean trout, bug meat, fennel and frisée.
The range of Dilmah Tea used
The variety of Dilmah Tea used in the recipe
Pure Ceylon Green tea All Natural
Created by : David Pugh