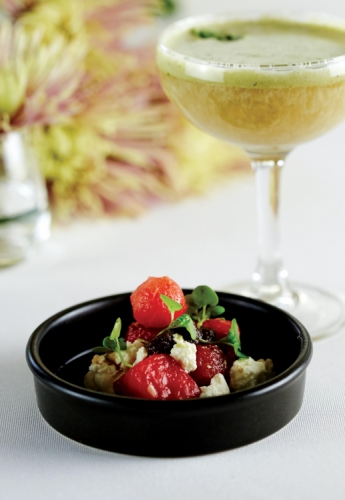 Food : Main Courses
COMPRESSED WATERMELON
Ingredients100g Persian Feta Cheese Watermelon Compress
½ Watermelon, fresh, cut into cubes forcompressing (4cm x 4cm
100g Balsamic Vinegar
5g Salt
2g Pepper
375g Sugar
515ml Water
25ml Vodka
125g White Balsamic vinegar
3 bunches basil
Olive Paste
100g Olives
1 Bunch Basil
½ Bunch of Parsley
4 Stems of Mint
1 Garlic Clove
60ml Oil
Micro Greens
1pnt Micro Green Basil
1pnt Micro Purple Basil
1pnt Micro Red Kale
100g Kalamata Olives
4 bunch Basil
140ml Olive Oil
25g Tapioca Maltodextrin
1 Garlic cloves, crushed
½ Bunch of Parsley
4 Stems of Mint
Basil Pearls
60g Basil
140ml Water
1.8g Sodium Alginate
55g Sugar
500ml Water
2.5g Calcium Chloride
Oil Powder
80ml Oil
25g Maltodextrin
Tapioca Powder
Salt to taste
MethodWatermelon Compress
Heat water and sugar over medium heat, stirring to dissolve all the sugar.
Once the mixture has come to a simmer, remove from heat, add flavours (basil, vodka, balsamic) and then cool.
Vacuum Seal Watermelon Cubes with the infusion syrup using a vacuum sealer machine. You want all of the liquid contracted into the watermelon when compressed in vacuum machine.
Olive Paste
Plate all ingredients into a robot coupe and blitz until smooth. Make sure you get quality olives so it's not too salty and overpowering for the dish.
Micro Greens
Toss all ingredients together.
Basil Pearls
Blend water and calcium chloride together for 20 seconds and reserve in a bowl.
In a saucepan combine sugar and water, bring to boil, remove from heat and add basil.
Puree for 1 minute until bright green then add sodium alginate.
Strain this liquid and add to the caviar tray and dispense into calcium bath*. Remove from the caviar tray once they form and rinse in clean water.
*Take your time when making this – try not to rush! You will get good quality pearls.
Oil Powder
Whisk together the salt, olive oil, tapioca.
Maltodextrin until it becomes a powder, adding a bit more Maltodextrin if necessary.
Pass through a sieve to make it fluffier, if necessary.
Created by : Geoff Laws