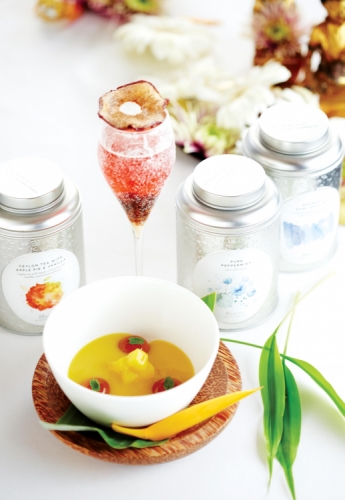 Food : Main Courses
COLD AND CHILLI
Ingredients
• 200g Mango Juice
• 100g Apple Cider
• 5g Honey
• 25g Lime Juice
• 300g Mango Puree
• 300g Plain Yoghurt
• 50g Cream
• 185g Apple juice
• 10g Sugar
• 5g Lemongrass
• 1g Chilli flakes
• 10g Gelatin leaves
MethodChilled Soup
Bring mango juice, cider and honey to a boil.

Add lime juice and place on ice water to cool.

Cut mango into cubes, add to the juice and mix

in a blender.

Add yoghurt and mix well.

Whip the cream and fold into the cold soup

before serving.
Soak gelatin leaves in cold water, squeeze

well. Bring apple juice, sugar, chilli flakes and

lemongrass to a boil. Add gelatin, stir until

dissolved, cool down on ice water and fill into

moulds.
Created by : Arie Yulianto