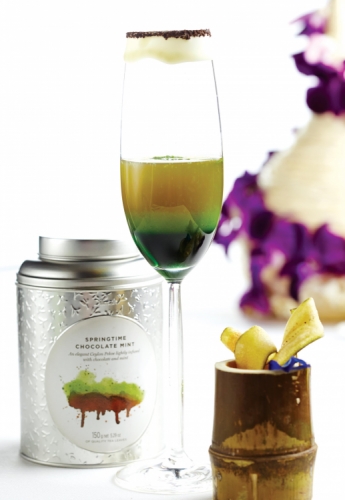 Food : Main Courses
COCONUT CUSTARD WITH CARAMEL SAUCE AND BANANA CHIPS
Ingredients
Thai Caramel Custard
• 125ml Coconut Milk
• 90g Brown Sugar
• 375ml Cream
• 120g Egg Yolk
Caramel Sauce
• 100g Sugar
• 400ml Cream
Banana Chips
• 3 Nam Wah Banana
• 200g Sugar
• 50ml Water
MethodThai Caramel Custard Method
Boil the coconut milk and the cream together in a small pot. Mix the egg yolk with the brown

sugar and slowly add to the hot milk mixture,

whisking at all times. Fill the mixture into a

bamboo and steam for 12 minutes. Allow to

cool.
In a small pot caramelise the sugar until

golden brown and add the cream slowly,

let it boil for 2 more minutes and let it cool

completely.
Peel the Bananas and slice them very thin

and then place into a deep fryer at 200°C until

golden brown. When taking out of the oil put

them on disposable towels to get the excess oil

out.

In a small pot boil the sugar and water until it

starts to get a light brown colour.

Add the deep fried banana chips and make

sure they are covered all over. Remove from the

pot and place on a lightly oiled tray and let cool.
Created by : Reinolf Moessl