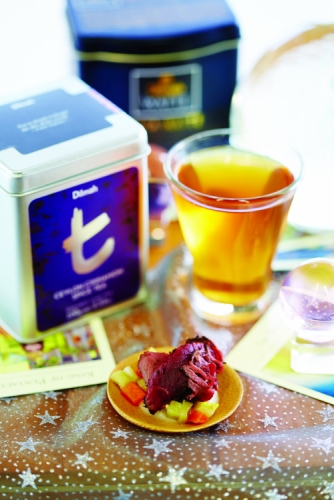 Food : Main Courses
CINNAMON SPICED TEA CRUSTED KANGAROO
IngredientsTea Crusted Kangaroo
6 tbsp Dilmah Ceylon Cinnamon Spice, loose leaf tea
tsp whole coriander seeds
tsp whole black peppercorns
tsp star anise
tsp ground ginger
tsp salt
1 tbsp (packed) light brown sugar
1(680g) Kangaroo fillet
3 tbsp canola oil
Garnish
Honeyed Vegetables
1 carrot
1 zucchini
2 squash
50ml honey
50g butter
Parsnip Purée
2 small parsnips
1 garlic clove, sliced
1 shallot, diced
250ml milk
250ml water
Bay leaves
Whole black peppercorns
MethodTea Crusted Kangaroo
Combine the tea leaves, coriander, peppercorns, anise, ginger and salt in a spice grinder or mortar and pestle and finely grind together.
Transfer to a shallow plate and stir in the brown sugar. Mix well.
Cut the kangaroo into 1 inch thick and 1 inch wide strips.
Roll each strip in the canola oil, and then roll in the tea spice crust to coat well. Reserve the remaining oil.
Let sit for 10 minutes for the crust to set.
Lightly seal kangaroo, then place the kangaroo in the oven at 180C and cook until rare to medium (approx. 2 minutes).
Once cooked, let rest and cool. Then roll in plastic wrap until tight. Slice thinly.
Honeyed Vegetables
Dice the vegetables, heat a pan and melt the butter.
Sweat the vegetables until soft and then add the honey.
Parsnip Purée
Peel and slice the parsnips. Heat a small pan and sweat the parsnips, garlic and shallots in butter.
Add the water and milk.
Add the bay leaves and peppercorns wrapped in a cloth for easy removal.
When cooked, strain and reserve the milk and water mix.
Add a small amount of water and milk mix to the parsnips and blend to a small consistency, add more milk mix if needed and season.
Created by : Sara Egan