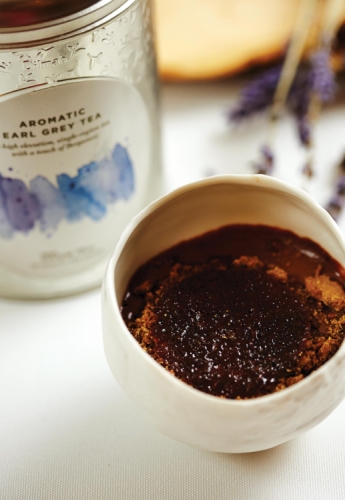 Food : Appetisers
CHOCOLATE-t-MOUSSE
Ingredients
• 4 Egg Yolks
• 200ml Milk
• 100g Sugar
• 20ml Captain Morgan Rum
• 175g Manjari Chocolate
• 200ml Cream (to whisk)
• 20g Dilmah Original Earl Grey Tea
• Pinch of Salt
Cacao Nibs Crumble
• 200g Flour
• 120g Butter
• 50g Sugar
• 25g Cacao Powder
• 30g Crushed Cacao Nibs
• 200g Dark Chocolate
• 300ml Water
• 100g Isomalt Sugar
• 80g Sugar
• 20g Glucose
• 3g Xantana
MethodChocolate Mousse
Infuse the milk with the Original Earl Grey

overnight (12 hours).

Whisk the yolks with the sugar and a pinch of

salt.

Cook in a small saucepan with the infused

milk. When it reaches 80°C, remove from heat,

and pour over the Manjari chocolate.

Allow to cool, whisk the cream until it holds

soft peaks.

Fold the cream into the chocolate and fill it into

piping bags.
Crush cacao nibs in the mortar. Combine the

flour with the rest of the dry ingredients, add

the butter. Place it on baking paper, bake at

180°C for 10 minutes.
Bring the water to boil with sugar, glucose,

and isomalt.

Melt chocolate over a bainmarie,

pour the liquid in, add xantana. Lay the

mixture on a silicon sheet and bake at 130°C for

30 mins.
The range of Dilmah Tea used
Dilmah t-Series Designer Gourmet Teas
The variety of Dilmah Tea used in the recipe
t-Series The Original Earl Grey
Created by : Vilmos Dohnal